Two of our top five FAQs from customers, are in relation to Conservatory Conversions:
How do we seal the ridge tiles?
How do we join the ridge tiles to the roof hip?

In relation to roof hips and roof ridges converging, we don't manufacturer a specific product as our ridge tiles can easily be cut into the desired shape and angle required for each project.
Here are a few customer examples
One customer created a quick video, showing how he had cut and shaped the ridge tiles for his conservatory conversion, to allow the hips and the roof ridge to neatly converge. With the addition of our Flexim Roof Putty, to seal the joints, it created a seamless and professional finish.
Click to play the video
Ridge Tiles and Hip sealed with Flexim Roof Putty
Another fantastic example of a customer's conservatory conversion. If you look at the point where the ridge tiles meet the hips, the builder has used our Flexim Roof Putty. Which looks incredibly neat & professional. The builder has mixed our Flexim Roof Putty and Brown roofing granules (from our repair kits, see details further down) to blend the joints with the tiles.
"Know the cost to Maximise the space in your home | With our roof tile calculator"
Joining the roof Hip and ridge tiles with roofing lead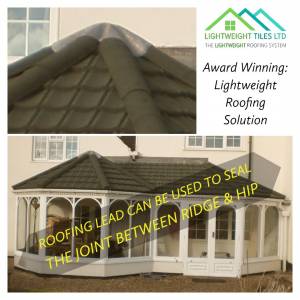 This photo is a good example where the joint between the hip and the ridge tiles have been sealed using lead. The lead is easily worked into the desired shape, therefore giving a water-tight seal to the conservatory conversion.
Top Tip | Repair kits | Sealing & blending the Hip and ridge tile
If you are thinking of using Flexim Roof Putty to seal the tile joints. One of our recommended tips is for you to use our "Touch up kits", giving it that professional finish.
How to use our "Touch Up Kits"
Select a bottle of loose granules in the colour of the tile you are using on your project
Mix the granules into the Flexim Roof Putty
Add the putty to the joints
To see more conservatory conversions, just click here and should you want to chat with us about our Lightweight Tiles, you can: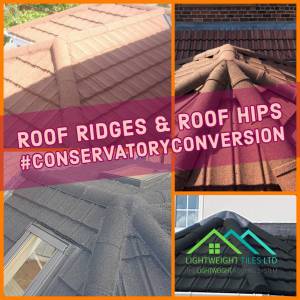 Call on 01594 715 777
Request a call back from our website
Ask questions via our "Need Help" function on our website