Below are some comments from our customers that have used our lightweight roofing system for their conservatory roof replacement, garage roof replacement, shed roof replacement or other outdoor building roof replacement. All have all been very happy with both our product and the finished result.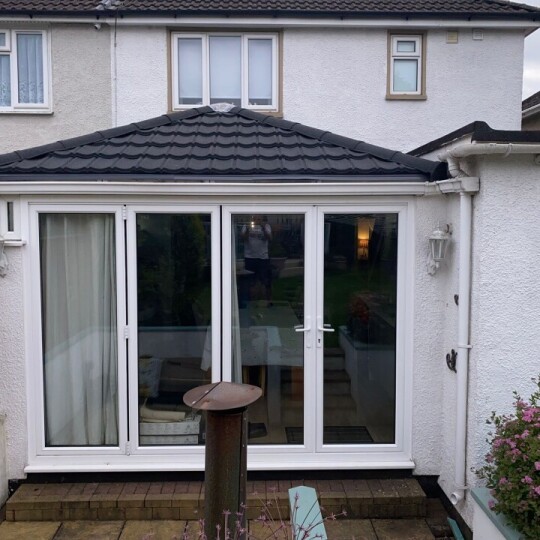 I have a general building and carpentry back ground, but I will say that your products are very easy to use and with a bit of forward planning it was easier than I thought . I think I was quite fortunate how the tiles worked out at the ridge but would of been fine if I would have had to of cut them as your ridge tile gives great cover.
The room was once a separate conservatory but as with a lot of households now I had knocked out the back of the house and the wall between the kitchen and it to make one big entertainment area so the roof was then the biggest loss of heat in the winter. 25mm cellotex insulation was just stuck onto the outside face of the existing polycarb roof between the roof bars and then felt and battened. As for the Velux, the interaction with your tiles as opposed to a 'normal' traditional tiles was a little interesting because your tile sits below the front edge of the battens and 'normal' tile hooks over the back of it meaning the tile line does rise a little at this point to accommodate the flashing kit but is not to noticeable. The beauty of doing it this way was the fact that the existing roof gave great weather proofing as I never compromised it apart from taking out the existing vent openers.
I intend now to stick another layer of 25mm cellotex in between the roof bars on the inside and then plasterboard and skim to give it a vaulted ceiling look. I will send you soon picture of this if you wish at a later date.
- Mike Palmer
---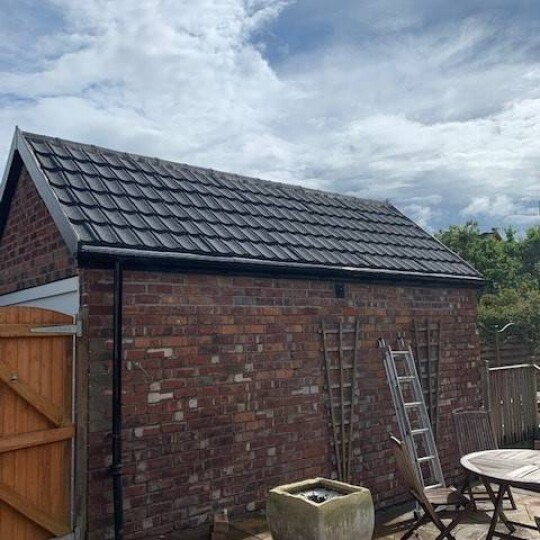 Hi, please see photos of the transformation of my garage, using lightweight tiles.my house was built in the 1930s, when building standards were not as stringent as today's. The garage was literally in a state of collapse, due to the sheer weight of the roof, spreading the walls apart.
I discovered your product online and it was the perfect answer to the problem.
I didn't employ a bricklayer, myself and my brother-in-law carried out all of the work and I'm extremely happy with the result.

The reduction in weight, compared to conventional, solves the problem of the walls being put under stress and I'm sure that the new roof will last for a long time to come.

The service that I got from your company was amazing, especially so, as we were in the middle of the Pandemic. I particularly want to thank Susan, for super customer service, especially at the moment, when so many companies seem unable to function normally, due to the Pandemic.

- Bill
---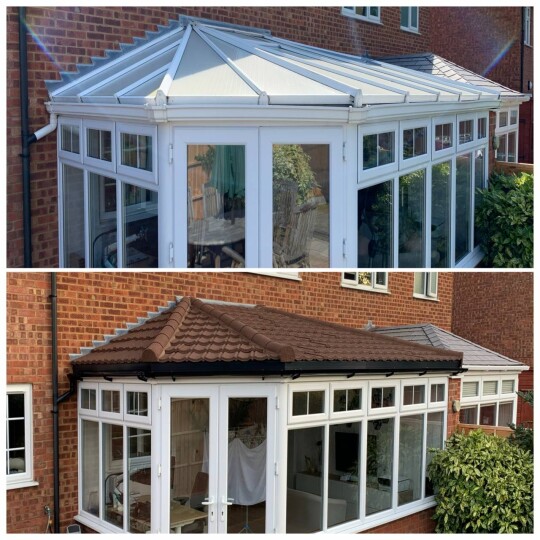 Plese find attached the before and after photos of our conservatory roof transformation. Many Thanks
- S Goodwin , Biggleswade
---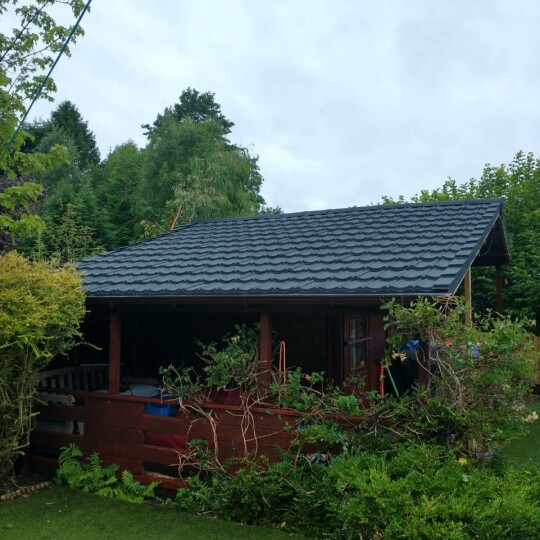 As one of your approved installers, it's rare that we get asked to re-roof outbuildings. Our main request is replacing conservatory roofs, to enable them to be usable all year round.

However, we enjoyed doing this shed/workshop and believe the Granulated Green tiles look GREAT!
- High Tech Roofing , Manchester
---
Having used Roofing Superstore online to purchase your granulated red tiles https://www.roofingsuperstore.co.uk/product/lightweight-tiles-roof-tiles.html

I'm so pleased with the finished result, now it's done we can finally get some shutters and curtains for the windows and doors to increase our privacy.
- M Deegon , Ashford
---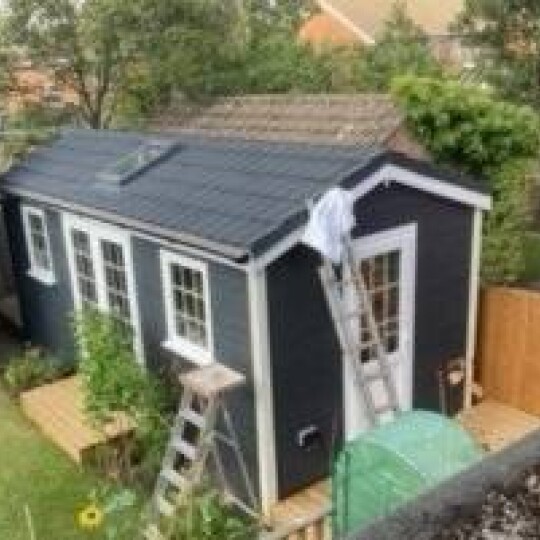 Hi Susan. Just wanted to let you know that I've finished the Customer's job. We are both very pleased with the roof and how it looks. As a joiner you come across different materials and ideas and I have to say yours was a pleasure to fit. The calculations of the amount of gear we needed, as done by yourself, was bob on and I had no waste. I will certainly use the tiles again and advise others to as well. Many thanks Jon B
- Jon B , Cheadle
---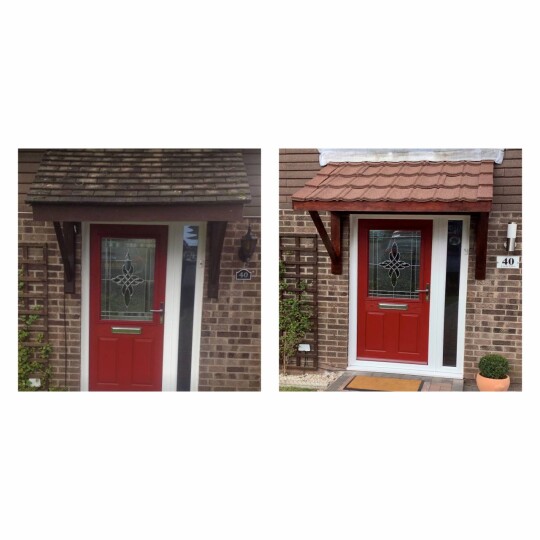 Hi Susan, before and after photos as promised, we are very happy with how they look and the help your guys gave us.
Thanks again Beth and John W
- Beth and John W , Newport
---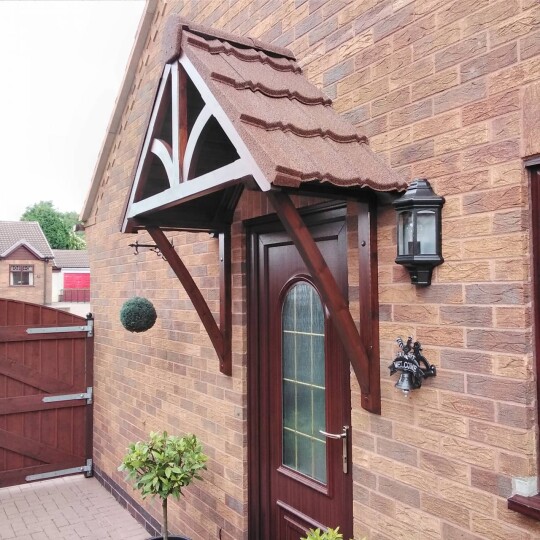 Thankyou, job now completed, looks great 'Thumbs up'
John C
- John C , Coalville
---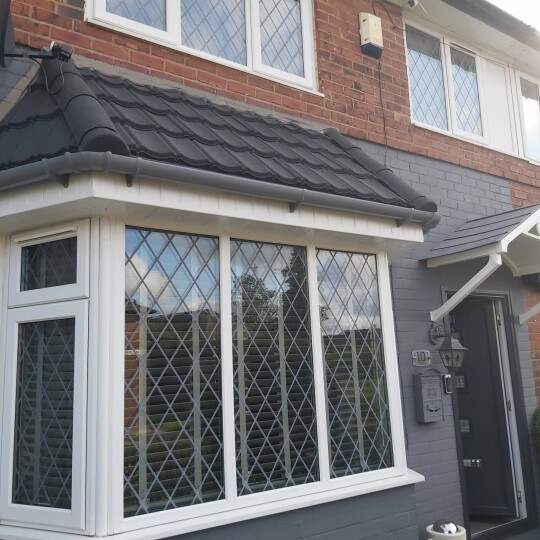 I recently purchased your grey tiles and am really impressed.
- James B , Manchester
---
Good Morning,

Thought I would send photos of our DIY roof conversion; thank you for the instructions.
- Charlotte L , Nottingham
---